"Superb" Daily Mail
"A compelling read, Believe Me is likely to follow its predecessor's path straight to the international bestseller lists… This rich, nuanced, highly literary take on the Gone Girl theme adds dimension and complexity to a trend that was in danger of wearing out its welcome." Booklist
The Sunday Times bestseller
Claire Wright, a struggling British acting student in New York, pays for her classes the only way she can: working as a decoy for a firm of divorce lawyers, posing in hotel bars as a casual pick-up to provide evidence against straying husbands.
When one of the firm's clients is murdered in macabre circumstances, and the main suspect is the dead woman's husband, Claire is asked to take on a different role: trying to elicit a confession from the man in question, under the direction of a wily police psychologist.
But right from the start, Claire has doubts about the part she's being asked to play. Is Patrick Fogler really a murderer? And is her growing certainty that he's innocent a sign she's getting too deep into her part – or that the police are making a terrible mistake?
Or could there be more to this situation than meets the eye? As Claire begins to falls in love with her target, she starts to wonder: who is the decoy here – and who the prey?
"An outstanding debut that is more than a match for Paula Hawkins' The Girl on the Train… A remarkably poised psychological thriller." Sunday Times
"The Girl Before is deservedly anointed the 'top girl' of this season's suspense novels." The Washington Post
"One of the best thrillers you'll read in 2017" New York Journal of Books
After a break-in, Emma wants a new place to live. But she can't afford anywhere that feels safe – until she finds One Folgate Street. The house is a minimalist masterpiece of pale stone, plate glass and soaring ceilings. But the enigmatic architect who designed it retains full control: no books, no cushions, no photos or clutter of any kind. The space is intended to transform its occupant, and it does.
After a personal tragedy, Jane needs a fresh start. When she finds One Folgate Street, she's instantly drawn to the space – and to its aloof but seductive creator. Moving in, Jane soon learns about the untimely death of the previous tenant, a woman similar to her in age and appearance. As Jane tries to untangle truth from lies, she unwittingly follows the same patterns, makes the same choices, and experiences the same terror, as the girl before…
Take the questionnaire to apply to live at One Folgate Street.
When Abbie Cullen met Tim Scott, she was a struggling artist and he was the brilliant British co-founder of one of Silicon Valley's most successful start-ups. Within six months, they were married. But when she promised him in her wedding vows that she would love him forever, she had no idea just how literally he would take it…

More about this book…
COMING August 2019
Writing as Jonathan Holt: The Carnivia Trilogy
Set in the area around Venice, the Carnivia trilogy follows the fortunes of two women: Detective Kat Tapo of the Italian Carabinieri, and Second Lieutenant Holly Boland, an intelligence officer stationed on a nearby US air base. Together they untangle a web of corruption and secrecy surrounding the activities of a powerful right-wing cabal formed after the Second World War.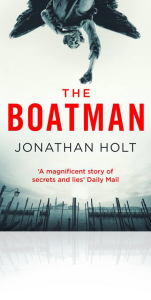 'A genuinely thrilling thriller… terrific by any standard… outstanding.'  Booklist
'A cracking, upmarket thriller… a rare entertainment for the thinking deckchair reader.' Saga Magazine
A body has been pulled from the icy waters of Venice. The victim is a woman, dressed as a Catholic priest—a desecration that becomes known as The Abomination.
It's Captain Kat Tapo's first murder case, one that takes her on a trail as elusive and complicated as the city's labyrinthine canals. What Kat discovers will test her loyalties and remind her of a simple truth: unless old crimes are punished, old sins will be repeated…
READ MORE
Also published in the US under the title
The Abomination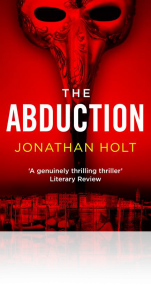 Longlisted for the Ian Fleming Steel Dagger Award
The girl in the feathered mask was just another reveller, anonymous in the Carnival crowds. When she was bundled into a van, nobody heard her scream.
But it turns out she's the daughter of an American army officer, kidnapped by a group opposed to US airbases in Italy. Suddenly, the case is making headlines all around the world.
Captain Kat Tapo is considered too headstrong to lead a high-profile kidnap case. But Kat has reasons of her own to head the investigation. What she discovers will rewrite the past… and send shockwaves into the present.
READ MORE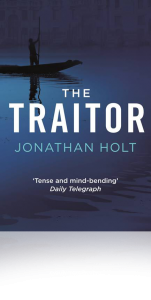 'British author Holt's masterly sequel to 2014's The Abduction concludes his Carnivia trilogy with a bang.'  Publisher's Weekly 
On Venice's Lido, a Catholic banker is found on the beach, his tongue torn out, his face covered by an antique mask. When Captain Kat Tapo learns the mask is a Masonic "hoodwink", she suspects her appointment may be no accident. As a woman, she can't penetrate the closed world of Italian freemasonry.
Meanwhile, American intelligence analyst Holly Boland finds a document among her father's possessions that offers evidence of a shocking Cold War cover-up.
As the two cases come together, so a conspiracy comes to light – a conspiracy that threatens to engulf Venice itself…
READ MORE
Also published in the US under the title
The Absolution